A wood plastic composite with up to 95% recycled materials
Construction waste presents a high potential for recovery but few solutions are available today. Addressing this challenge, a finish company relied on its innovative conical extrusion process to develop a multilayer extrusion profile made of Wood Plastic Composite (WPC). This WPC can contain up to 95% recycled materials including Construction & Demolition waste.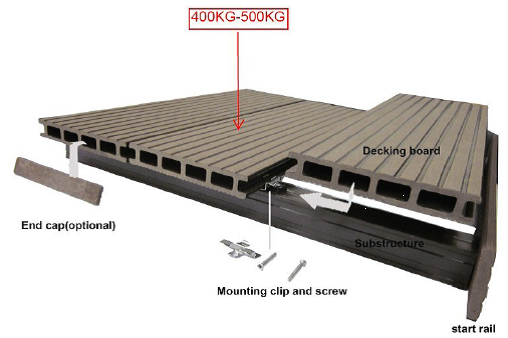 The challenge
The construction and demolition waste (C&D waste) is one of the largest waste streams in the EU. The EC Waste Directive 2008/98 targets a more sustainable construction industry, recovering a 70% (by weight) of its non-hazardous construction and demolition waste by 2020: to meet that objective, new solutions must be found to achieve an efficient material recovery from C&D waste.
The innovation
For the first time, a wood plastic composite (WPC) was manufactured with up to 95% recycled material in weight and including construction and demolition waste: an innovative extruding process allows to produce WPC decking board products (among others), replacing chemically treated and/or tropical wood boards. They can be used for outdoor terraces, pathways in parks, municipal benches, sound barrier walls for highways and railways, etc.
WPC-decking (PIcuter courtesy of IRCOW project)
This composite was developed by CONENOR, a company specialised in composite extrusion processes based in Finland, in collaboration with TECNALIA, leading R&D center based in Spain. The developed WPC contains wooden materials and mineral wool recycled from construction and demolition waste, plus other recovered materials such as gypsum plaster board, high density polyethylene and recycled WPC. To make sure that the C&D material included is not visible on the surface of the final decking board product -for which aesthetics is a critical feature- a multilayer product design was adopted with:
An encapsulated core layer containing 55 % in weight of C&DW waste, with recycled high density polyethylene (HDPE-r)a surface layer made of recycled wood plastic composite with polypropylene.
Wood plastic composite decking board composition and waste material origin
Source: Public deliverable 5.3 from the IRCOW project
The laboratory tests performed by Tecnalia proved adequate mechanical performance of the profiles for the decking application (flexural properties, hardness, water absorption, flame propagation speed). The WPC is compliant with various eco labels, including the Nordic Ecolabel. In addition:
the manufacturing waste is directly re-conveyed to the manufacturing line thanks to a crusher that allows to recycle the WPC production waste back to the extrusion process,At its life cycle end, the product can be burned and used for producing energy.
Why did it work?
Upcycling the C&D wood and plastic waste was made possible thanks to an innovative multilayer composite extrusion process that allows manufacturing both solid and hollow section profiles. The conical form of the CONEX®-extruder allows to manufacture profiles with up to 75 % wood content. The hollow rotor design enables to produce high quality wood plastic composites from various waste materials at low cost. First, the raw materials (waste and virgin material) are mixed into free flowing agglomerates which are adequate to feed the extruder. Second, the two mixtures (core and surface layer) are extruded in the wood extruder line to produce the multilayer composite decking boards.
Layout of the CONEX extruder
Source:www.conenor.com
Further deployment
100 linear meters of multilayer board were produced and installed for decking in real outdoor conditions in Spain. The demonstration results proved the durability and aesthetical stability of the boards (estimated TRL: 7).

NB: this development was performed within the IRCOW project co-financed by the EC FP7 grant funding programme. This project, completed in January 2014, focused on the development of high grade construction products elaborated with recycled C&D waste, starting from the building demolition and waste sorting phases. More project resources can be found at http://www.ircow.eu/