Chromatogeny: green chemistry to make paper water-repellent
A lab discovery leads to the industrialisation of a solvent-free technology allowing to make cellulose-based materials hydrophobic, using the breakthrough process of chromatogeny.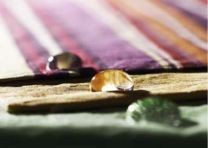 The challenge
In the papermaking industry, the process of paper coating is used for various decorative and functional purposes in numerous manufacturing fields, from agro food to medical applications. Most coating processes are solvent based, thus leading to the emission of volatile organic compounds. New technological solutions are required to produce papers and boards with good barrier properties in compliance with increased sustainability criteria.
The innovation
Chromatogeny (or chromatografting) is a breakthrough green chemistry process that brings hydrophobicity to papers and boards. It is a solvent-free, ultra-fast technology that can be applied on roll-to-roll manufacturing lines as well as on three-dimensional objects such as moulded pulp. The process shows high potential for numerous applications, as for instance sustainable packaging in the agro food industry, but also textiles, medical devices, or technical films.
Chromatogeny uses the reaction of fatty acid chlorides with hydroxyl groups. The process can be compared to printing: fatty chloride acids are applied in a liquid state onto paper; then the temperature is increased to bring it to a gaseous state. This allows the entire surface of papers to be protected from water because of the direct chemical bond between surface hydroxyls and fatty acids.
Why did it work?
The commercialisation of this breakthrough technology is a nice example of technology transfer success: issued from a discovery made by Daniel Samain at CNRS (the public national laboratory in France), the technology was patented by the lab, and a spin-off company, BT3, was created by the inventor in 2010 with exclusive licence rights. The start-up team benefited from complementary competences including business development experts, and from the support of two key partners at that stage: the CTP, a French technical centre specialised in paper, and ARDI, the regional innovation agency in Rhone Alpes. The strategic partnership with CPT allowed to demonstrate the industrial feasibility of the technology, thanks to a pilot developed in their technological platform TekLicell co-financed by the European Regional Development Fund (ERDF). The cost forecasts resulting from the pilot experiment revealed very good, with a few euro cents/m2.
The innovation agency ARDI organised the networking of BT3 with a set of potential end users in the agro food and medical sectors. BT3 also benefited from the support of other regional incubating structures (Grenoble Alpes Incubation and Accelera).
Further deployment
The maturity of the technology is estimated to be TRL 7. BT3 started to go European-scale by initiating a collaboration with the technical center Fraunhofer IVV in Munich, Germany. In early 2014, BASF signed an agreement with the start up in the framework of their "Center for Sustainable Paper Packaging" to evaluate the joint development of an alternative to wax in corrugated packaging board in order to facilitate recycling.