Corporate Venture Programme
Three Finnish enterprise groups are lending their expertise and skills to SMEs. They have enormous amounts of strategic know-how and market knowledge, a sharp nose for business, and the motivation to help small businesses to grow.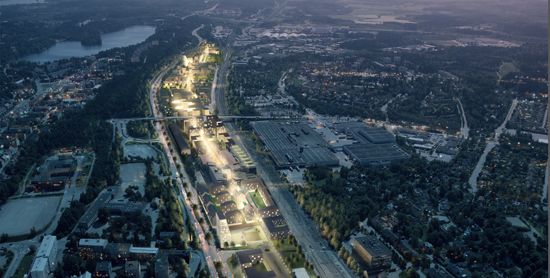 The challenge
Start-ups/SMEs & corporate companies could both benefit from enhanced collaboration in the development of innovative solutions. The challenge is that growth companies lack resources for piloting and that larger companies are often les aware of the solutions that exist outside their own R&D. Another significant challenge for growth companies is to find the right contacts within large companies and for the latter to know which SMEs really are competent and reliable.
The network
The Corporate Venture Programme (CVP), coordinated by Lahti Region Development LADEC Ltd, is a unique opportunity for SMEs and startups to showcase their operations and innovations to one of three large Finnish groups.
The CVP creates a network of innovative companies and forerunner corporations with the aim of enhancing the cooperation between organisations and to launching calls for innovative solutions - whilst opening their R&D challenges to a wider audience.
The partnership programme starts with each corporation launching a call that smaller, innovative companies apply to. The corporation then chooses between two and four of the most promising and interesting companies to mentor. The selected companies receive high-quality guidance, a business strategy check, conducted in cooperation with the guidance group, and a clear business growth plan.
The aim of the guidance group is sharing resources and it will be there to support the companies on their path to success. The group consists of a company representative, a Ladec business development expert, a representative from the mentoring company and a third-party mentor. The programme lasts for six months and during that time the corporations monitor the performance of the smaller companies.
The benefits
The aim of the programme is to develop businesses from 'apprentices' into 'masters'. Companies need help in order to perform to the best of their abilities within international markets. The programme allows companies in Finland to find new partners and development projects.
This programme has become a vital way of boosting the innovation process of cleantech companies and creating successful businesses through the established contact with corporations. Interaction with the innovative SMEs also benefits the large companies involved in the network as they get new solutions outside of their own R&D process.. Large companies pay for the service by innovation call launched or yearly fee.
Further deployment
The first round opened in October 2014, the whole process will take one year. The next step is to invite more large companies to take part in round two and to widen the network to cover Scandinavian companies.
The GML is estimated 7 since the network is tested and could be easily scaled up in other regions.