European Association of Mining Industries, Metal Ores & Industrial Minerals (Euromines)
The European Association of Mining Industries, Metal Ores & Industrial Minerals (Euromines) represents the European metals and minerals mining industry and aims at promoting it. Its activities goals are support to the innovation competences of firms and improving regulation and standards in order to meet sustainability criteria economically as well as ecologically.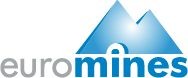 The challenge
Climate change, rising energy costs and foremost scarcity of resources are main challenges world-wide. Consequently, this exposure of the European Mining Industry to global competition has to be met by eco-innovative solutions which require the strong cooperation of its stakeholders. A stable legal framework is important for this contributor to sustainable development in Europe.[1] In order to promote the extractive industry towards the European authorities as an environmentally responsible as well as innovative sector, networking, providing support to business as well as combining activities are crucial for strategic planning aiming at the competitive future of the mining industry.
The network
Euromines was founded in 1996 to represent several national mining associations mainly from Western Europe. It represents industry, SMEs and subsidiaries in Europe and in other parts of the world providing jobs to more than 350,000 people.[2] The member list features companies mining metal ores, industrial minerals and coal, as well as national and international federations of such companies, established in one of the Member States of the European Union, or of the European Free Trade Association.[3] Euromines secretariat is based in Belgium. There are a couple of committees working more in-depth on particularly challenging questions like resource efficiency or sustainability, environment or internationalisation.[4] The network is open to new partners active in the innovation-driven development of the mining sector.
The benefits
Being a member of Euromines provides access to and cooperation with a formal platform in which the members evaluate the impact of European and International policies and legislation on the industry and define common positions and actions.[5] Therefore it is also an active partner in the EIP on Raw Materials.[6] By enhancing the cooperation, Euromines acts as an active network throughout the sector within Europe, also supporting resource monitoring, skills sharing and fostering contacts with the mining community throughout the world.[7] Euromines increases dissemination of information information by comprehensive statistics and publications, covering a wide range of topics related to the sector.[8],[9]
Further deployment
Euromines work, validated in its way to proceed, qualifies for an estimated level 7 on the generic maturity scale GML.[10] Financed by an annual membership fee, the Association facilitates the activities of its members comprehensively.[11] The network monitors EU and global policy as well as facilitates practical and political exchange of experiences among professional associations, technical centres & experts, thus raising awareness and providing support for innovative activities in the mining sector. Euromines developed an original position on resource efficiency until 2050, stating that resource efficiency as such requires contributions from whole value-chains.[12] For practical guidance sustainability guidelines are available.[13] Euromines goal is to further strengthen the position of the extractive industry in modern Europe.
Links:
The website