INNEON (Eco-innovation for Investment Network)
INNEON is a network for eco-innovation investment. It aims to foster public and private funding for eco-innovation and social business in Europe by linking up innovative entrepreneurs and relevant investors. The network is providing consultancy and coaching for selected entrepreneurs, an online matchmaking platform for innovators and investors, networking events and more.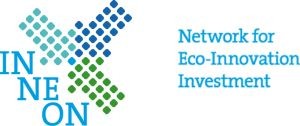 The challenge
One of the main barriers for 'Sustainable Business' to grow remains the access to equity funding for environmentally/socially sustainable companies. Investors often do not account for the added value brought by the sustainable aspect of eco-innovative or social projects and business models. Furthermore, investments in green technologies often face additional risks due to strong dependence on regulations and (changing) political support. Thus, SMEs and entrepreneurs need specific finance and business support, improved access to investors and opportunities for information sharing with other eco-innovative entrepreneurs. [1]
The network
INNEON was launched in January 2014 by ten partners from across Europe, including consultancies, SMEs and NGOs.[2] To get started, the network benefited from Grant Funding by the European Commission. INNEON acts as a catalyst by providing support to eco-innovative entrepreneurs, facilitating networking as well as matchmaking services between entrepreneurs and investors, and disseminating information on eco-innovative business. The network is open to SMEs, entrepreneurs or individuals with any kind of business idea related to eco-innovation and social innovation. Investors, business angels, venture capital, private equity, and corporate investors (e.g. industry) are invited to join the network.[3]
The benefits
The network is based on a high-quality selection of business ideas and investors in order to achieve strong commitment of the partners and high success rates of business and investments.
SMEs and entrepreneurs have to apply for full network services with their innovation projects and business ideas. Successful applicants can take advantage of coaching support, access to investors and networking with a cohort of selected fellow innovators. All other entrepreneurs and SMEs can benefit from INNEON through publicly available self-help tools and general information for turning an eco-innovative idea into a successful business venture. [4]
Investors participate in the network as members with defined obligations and rights. Investors meeting the membership criteria can benefit from access to high-quality investment proposals from eco-and social innovators, and have access to specific market intelligence and opportunities to network with likeminded investors from across Europe. The total number of investor members is set to 30 for 2014, which can be expanded in the following years.[5] Indeed, INNEON is currently setting up a close connection with the existing EUROQUITY investment platform: this French-German initiative is a well-established matchmaking platform for European business opportunities and investors gathering for instance European Business Angels and Venture Capital associations. INNEON intends to further focus on sustainable business opportunities and eco-innovations within a dedicated eco-innovation community inside EUROQUITY.
Further deployment
Start-ups and SME play a vital role in the development and commercialisation of eco-innovation and social business. At the same time, a significant lack of venture capital is evident in most European countries. INNEON aims at bridging this gap by encouraging investments in eco-innovative and social business ideas. Since the network has only recently been launched, currently it is estimated to be level 6 on the generic maturity scale, GML. Once fully established, the network has high potential to attract entrepreneurs and investors across Europe and to expand in all European countries. The network will significantly contribute to the successful implementation of eco-innovative business by providing support to business, linking up investors and facilitating partnership.