Luxembourg EcoInnovation Cluster
The goal of the Luxembourg EcoInnovation Cluster is to connect different actors in the cleantech sector in Luxembourg in order to identify and avail of their strengths and the opportunities they can offer. An active network, it performs successfully by providing support to the various stakeholders who wish to work on innovative projects.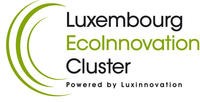 The challenge
As an answer to the challenges of climate change and the scarcity of resources, sustainability concepts have to be turned into reality, which creates in turn new challenges and opportunities. Integrated concepts like C2C entail rethinking the entire production cycle, aiming at closing the material cycles. [1] Consequently, research activities in environmental technologies focus on eco-innovative practices such as environmental management, life-cycle assessment, clean technologies and process engineering.[2] The Luxembourg EcoInnovation Cluster provides support to the innovation competences of firms by combining activities of its members and promoting the sector, i.e. promoting cleantech firms in their value chains.
The network
The Luxembourg EcoInnovation Cluster is animated by Luxinnovation, the National Agency for Innovation and Research, which helps to implement the Cluster strategy and its Cluster action plan.[3] Luxembourg-based industry, SMEs, and research institutions active in the field of cleantech can become members of the Cluster. Its membership list comprises of public and private institutions and companies, strategic partners, and investors such as capital or support providers.[4] The Cluster is also open to both interested individuals and external bodies looking for skills sharing and dissemination of information. A steering committee reviews applications depending on the added value applicants can bring to the Cluster.[5] The Luxembourg EcoInnovation Cluster is part of the European Cluster Alliance.[6]
The benefits
Since the Luxembourg EcoInnovation Cluster is providing consultancy and access to various activities regarding business opportunities, members are expected to actively participate in and contribute to cluster initiatives and projects.[7] The Cluster acts as a dynamic network, increasing the eco-innovative performance of its members. Partner institutions join forces for collaborative RDI[8] projects. Additionally, the Cluster activities increase the international visibility of the competencies and capabilities available in Luxembourg and foster international collaboration. Several publications documenting the results are available which can be further used in this context.
Further deployment
The Luxembourg EcoInnovation Cluster, validated by its capacity to be further expanded, qualifies for an estimated level 7 on the generic maturity scale GML.[9] By combining private and public grant funding for demonstration it facilitates eco-innovation by providing infrastructure such as its incubators. Moreover, the Luxembourg EcoInnovation Cluster has recently initiated the project "Organic City - Organic Life in Dudelange". This initiative consists of proposing a sustainable urban development project by transforming the industrial wasteland of the old steelworks in the city of Dudelange into an eco-district.[10] The take-up of green technologies is empowered by an ambitious action plan, which Luxembourg has recently adopted.Raising awareness, setting up a public-private partnership as well as networking add to the successful expansion of the Cluster.
http://www.ecoinnovationcluster.lu/