Manuals and guidelines
inno4sd publishes manuals and guidelines for policy makers, statistical offices, policy analysts, researchers, academics and the general public interested in different issues on how to measure, design, monitor and/or implement policies, programmes, and/or actions around eco-innovation for a green economy and sustainable development.
Maastricht Manual on Measuring Eco-innovation for a Green Economy
The Maastricht Manual on Measuring Eco-innovation offers guidance on the measurement of eco-innovation in order to provide high quality data for research and policies to support the green economy.
The Maastricht Manual has been designed for researchers, policy makers and statisticians from National Statistical Offices (NSOs) and other organisations responsible for collecting and producing indicators.

Policy makers can use the Maastricht Manual to identify the types of data that are required to inform policy and consequently to demand and fund the collection of relevant, high quality indicators on eco-innovation.
The Maastricht Manual has been written by leading scholars in the fields of innovation for sustainable development - some of them having led the process of revision of the latest version of the OECD Oslo Manual for the Measurement of Innovation.
Click on the image below to access the document. For more information: ecoinnovation@inno4sd.net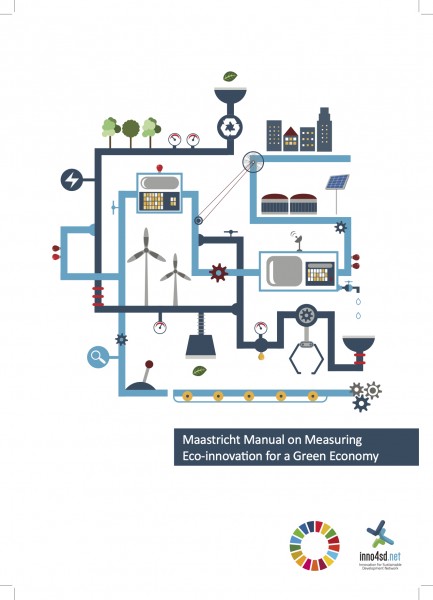 Innovation for Sustainable Development at local level: instruments and examples to get started
This inno4sd Guide of innovation at the local level emphasizes the local dimension of innovation for sustainable development. It addresses the premise of the need to illustrate and facilitate local action as of the essential responses to the global sustainability challenges such as climate change and biodiversity loss.
Cities and local communities are to some extent responsible for these problems and should also be part of their solution. This is because if the manifestations of sustainability challenges are very different across regions, local administrations worldwide share similar responsibilities in terms of local governance.
The Guide is aimed at local administrations and communities, including policy makers and practitioners, but also businesses and citizens interested in learning and contributing to sustainability through local innovation.
This Guide is an introductory document. It is delivered as an entry-level text written in simple language that provides basic information on what innovation entails at the local level. Click on the image below to access the document. For more information: cities@inno4sd.net