Provision of bicycle hiring infrastructure for citizen mobility around the City of Paris
The City of Paris created bicycle rental facilities for citizens in order to reduce traffic congestion and improve air quality. Individuals can take bicycles from the nearest pick-up station and drop them to any other nearby station within the City.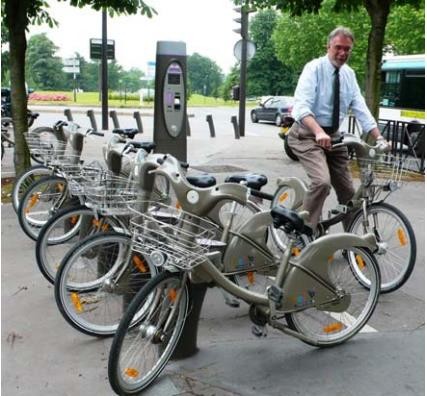 The challenge
Air pollution and congestion from traffic is a major challenge in urban areas, which calls for sustainable transport options. The self-service bicycle-sharing system in Paris (Vélib') is an effort by the city administration to reduce the traffic blockages and the emissions of carbon dioxide and other greenhouse gases from combustion of fossil fuels in road vehicles.
The innovation
Starting in 2007, the City of Paris in France has installed 1450 bicycle stations every 300 metres throughout the inner city. These stations remain open 24 hours a day all year round. Every station has the capacity for 15 or more bicycles and parking racks and is equipped with an automatic bicycle rental system. In total 20,600 bicycles and 35,000 racks are made available for rental across the city.
No subscription is required to use the bike rental service. Bicycle can be picked up and used at any Vélib' bicycle rental terminal. The first 30 minutes are always free. To use them for a longer period of time, a ticket can be bought online. A 1-day ticket costs € 1.70 while a 1-week ticket is € 8.00. This payment mechanism is designed to allow bicycles remain in circulation. Every night the bicycles are redistributed to stations, which turn out to have a greater demand.
Why did it work?
The innovation emerged in response to high levels of congestion during rush hour on particular routes. It also addresses the City's aim of promoting sustainable practices for urban mobility. This creative solution, based on the concept of the sharing economy, allows the citizens to use smarter alternatives to avoid congestion and help reduce the associated air pollution in the City.
The system is successful because the bike availability at each station is continuously recorded in an online database helping citizens to track it on the internet or through mobile devices. Start-up financing for the Vélib' project and the related operational costs for the first 10 years were taken on entirely by the JC Decaux advertising company. In return, the company received the control of a substantial portion of the advertising billboards owned by the city administration.
Further deployment
The maturity of this eco-innovation is estimated to be 9 on GML scale. Building on the success of the bicycle sharing system, the City of Paris has now also started self-service electric car rental service.