Renovating public housing while increasing energy efficiency and living comfort
The project Brogården has demonstrated a successful way of effectively renovating public housing, increasing both energy efficiency and living comfort. Through the use of a business model that includes sustainability dimensions, and a new way of collaboration (procured partnership) the project was able to create added value for everyone involved.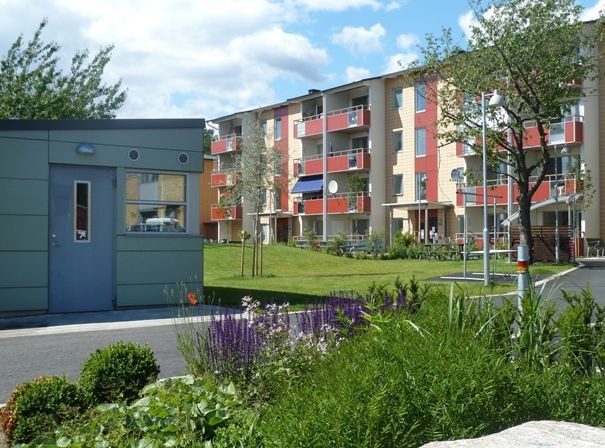 Photo: AB Alingsåshem
The challenge
Much of the energy consumption of public housing depends on building structure and technical characteristics such as insulation. Improving energy efficiency in buildings during renovation is important, but in public housing solutions must also be affordable. Renovation of public housing that considers energy efficiency requires promoting sustainable practices and developing a novel business model.
The innovation
The tailored renovation of Brogården in Alingsås (Sweden) was carried out by Alingsåshem in partnering with Skanska. SP Technical Research Institute of Sweden has performed continuous monitoring of the energy performance of the buildings.
The project is also part of an EU initiative (BEEM-UP), in which Alingsåshem, Skanska and SP participate. The project is financed by loans taken by Alingsåshem. The last 8 houses have received a public grant partial funding for R&D through BEEM-UP.
In order to meet the challenges the project needed to have a holistic approach. Alingsåshem was able to create new values for tenants by including environmental, social and economic sustainability criteria into the business model. Strategic planning and the involvement of tenants made this easier. Through dialogue with the residents, identifying their needs and wishes, the tenants had an indirect influence over the project design. Among other things, this led to more bike racks and tables and benches outside.
The houses were renovated in accordance with passive house standards. Passive houses have highly insulated outer walls, meaning almost no external energy is required to maintain comfortable temperatures, and thus saving energy for heating by up to 80% compared with before.
Furthermore, the project created added value for everyone involved, by increasing apartment floor area: the existing indented balconies were replaced with outside surface mounted balconies with side shields. This got rid of a substantial thermal bridge that had been causing draughts in all living rooms. The increased rentable floor area created added value for Alingsåshem by creating more rentable floor area. This additional floor area could be used to enlarge the bathrooms. This meant that the apartments became more accessible, improving living conditions for everyone, not least for elderly people and those reliable on wheelchairs. The accessibility was further improved by the renovation of all the entrances, so that these were level with the ground level.
Photo: AB Alingsåshem
Why did it work?
The project Brogården used the cooperation model of procured partnership, making all involved parties (designers, contractors, property managers and residents) important for the project's progress. This partnership was essential for the success of the project, creating spaces for learning and sharing good practice.
A precondition for the procured partnership is a common and transparent budget. In the project Brogården they also used open accounting. This created a focus on finding common solutions instead of focusing on contract management.
Further deployment
The renovation of Brogården resulted in great amounts of energy being saved. SP's monitoring of the area has shown that 75% savings on energy for heating have been achieved. The houses have also become more accessible, improving living standards and increasing the comfort for the residents. The project can be estimated to be at 8 on the TRL scale, reflecting the great potential for the business model used.
Links:
The website
Photo: Patrik Skoglöw