STI for the SDGs policy roadmaps
This Inno4SD guidelines introduces the context of STI for the SDGs policy roadmaps, and proposes a practical step-wise approach to organising a policy roadmapping exercise.
There are many existing guides for technology roadmapping, but there are fewer guides for helping policymakers understand how to use roadmapping for policy design and implementation, and how to best to translate the benefits of roadmapping beyond a focus on technology.
The questions the inno4sd STI Policy Roadmaps for the SDGs guidelines respond to include:
What is roadmapping, and what are key design features of roadmaps?
How to adjust roadmapping techniques to apply it to design and implementation of STI policies?
How to design and implement STI for the SDGs policy roadmaps?
These guidelines address this gap by proposing a framework for STI policy roadmapping for the SDGs that considers existing practice as well as areas of focus and challenges relevant for sustainable development.
Roadmapping has been employed as a framework for strategic planning in technology management for many years. More recently, roadmapping tools have made their way into policy for Science, Technology and Innovation (STI), particularly where policymakers are seeking to understand how STI can contribute to meeting long-term goals, such as the SDGs. Roadmapping can be considered an instrument to enable design, planning and implementation of public policies, and to build partnerships for long-term ambitious sustainability goals.
The guidelines comprise three main sections:
Section 1 introduces technology roadmapping with a focus on its key features and generalised architecture.
Section 2 discusses an approach to policy roadmapping and proposes a generalised architecture of STI for the SDGs roadmaps
Section 3 introduces the step-wise approach to STI for the SDGs policy roadmapping highlighting key objectives, possible approaches and methods which can be deployed in different phases of the process.
The document contributes to the ongoing work on STI for the SDGs roadmaps undertaken by the United Nations inter-agency task team on science, technology and innovation (UN IATT) in the framework of the Technology Facilitation Mechanism [Go to UN STI for SDGs roadmaps].
Click on the image below to access the document. For more information on STI for SDGs policy roadmaps contact: roadmaps@inno4sd.net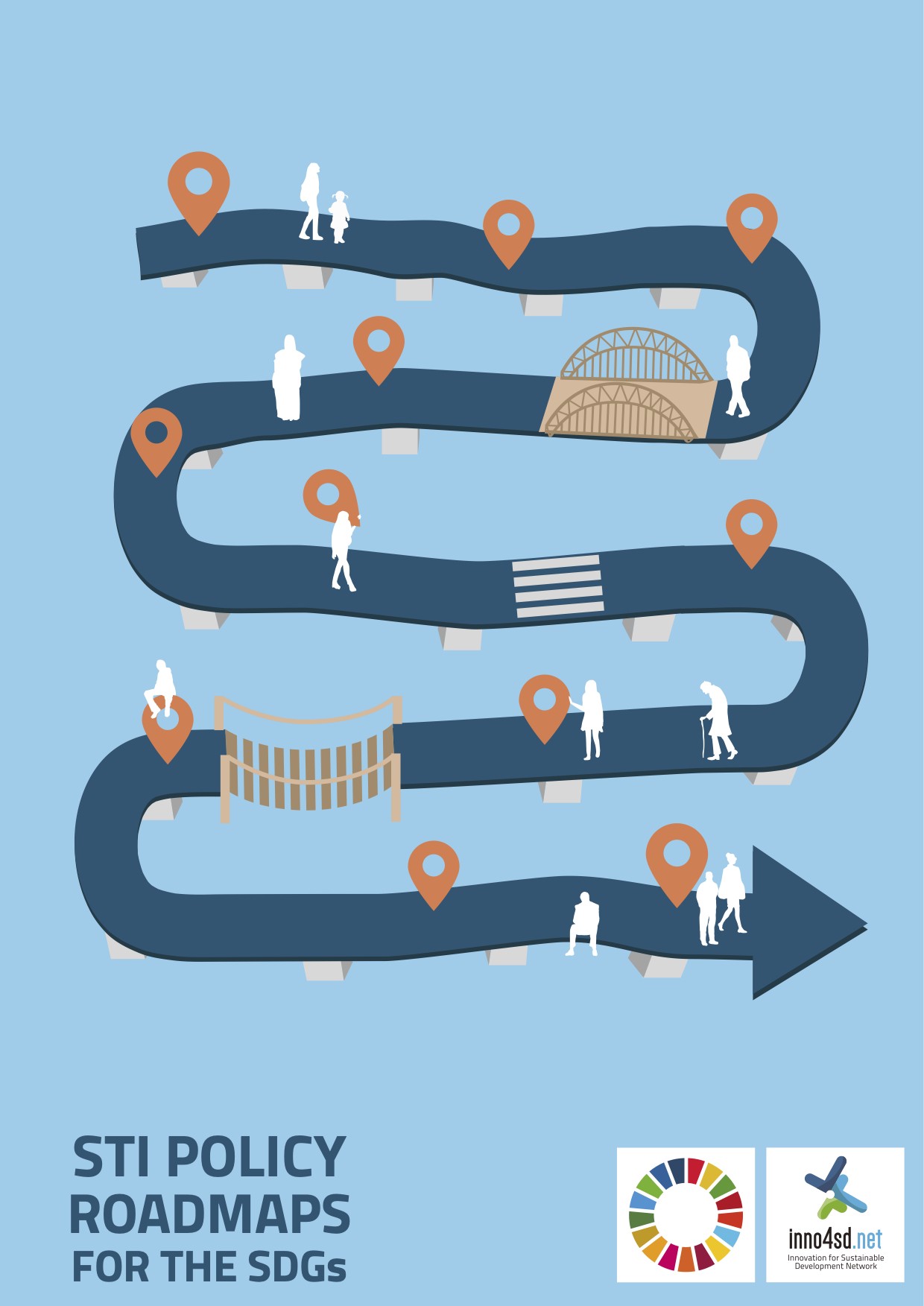 See also the Inno4SD Policy Outlook for a richer discussion and a critical review of recent roadmapping experiences.