Taiwan's eco-friendly textiles go global : Gray Eco Blanket
DA.AI (Great Love) Gray Eco Blankets are made from recycled PET bottles collected by 80,000 volunteers in the rubbish recycling stations of Tzu Chi Foundation throughout Taiwan. All the bottles are turned into synthetic fibres to make blankets and clothing with the aim of distributing to relief operations worldwide.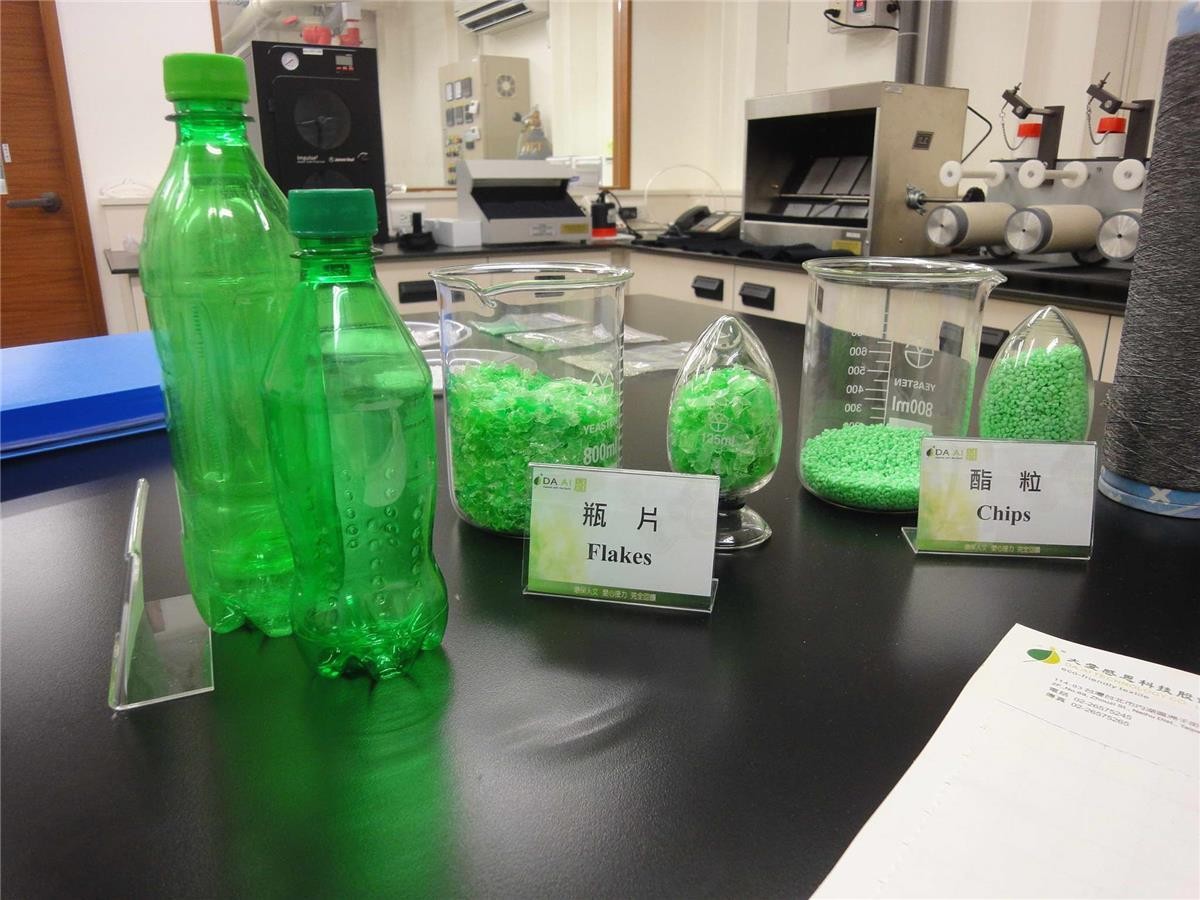 The challenge
It is estimated that every year up to 4 billion PET bottles are consumed in Taiwan. According to the statistics of Taiwan EPA, 100,000 tonnes of PET bottles can be recycled. The use of recycled PET bottles to produce other products is an innovative aspect. As for the process of the blanket making, the technical limit is to ensure the quality of the recycled PET bottles. It is closely associated with the length of the yarns. If the yarns tend to be vulnerable and unstable, problems will occur when producing fabrics.
The innovation
In 2008, five Tzu Chi International Humanitarian Aid Association volunteer entrepreneurs set up a company named DA.AI Technology Co. Ltd. to develop technology to produce clothes, blankets and daily-use textile from the recycled plastic bottles. It is Taiwan's first non-profit company dedicated to manufacturing eco-designed products. DA.AI donates 100% of its net profit to Tzu Chi Foundation and other charities.
DA.AI works with 5,642 Tzu Chi recycling stations in Taiwan. Each year, nearly 2,000 tons of PET bottles are collected and recycled by over 80,275 recycling promoters. They sort the plastic bottles, remove lids and rings, transport them to plastic processing plant to be shredded and washed, and turn them into recycled polyester chips. These recycled chips are then transported to spinning mills where polyester filaments are extracted and woven into environmentally-friendly fabrics, which may then be made into the Gray Eco Blanket.
The Gray Eco Blanket is derived from dope dyed 100% recycled polyester yarn. Its colour basically originates from the addition of colour chips in the process of spinning instead of the traditional dyeing process. This is why it is called "Gray" Eco Blanket.
Why did it work?
Roughly 63 recycled PET bottles can be made into one Gray Eco Blanket. Making one blanket with recycled bottles is equal to reducing 1.7 kg of CO2 emissions, saving 35.4 millilitres of oil and 6 litres of water. On average, DA.AI manufactures 150,000 blankets every day. To date, Tzu Chi volunteers worldwide have given away over 800,000 blankets to disaster victims in nearly 30 countries.
Further deployment
The Gray Eco Blankets have received numerous environmental certifications in Taiwan and abroad. These include the EPA's Green Trademark, German TÜV Rhineland's water footprint and carbon footprint certification, the Netherlands' GRS "global recycling standards" certification, Cradle to Cradle(C2C) Products Innovation Institute grade C2C silver certification from the United States etc., In July 2013 Japan officially approved the use of the ECO trademark on consumer products sold in Japan with its 100% recycled PET bottle material that causes no pollution from dyeing or manufacturing. Consequently, DA.AI Technology Co., Ltd has been successful not only in solving the problem with PET bottles but also in raising awareness regarding waste reduction.
Being conscious of increasing textile waste, DA.AI has strived to recycle and reproduce self-made textiles, asDA.AI has a good command of its own products. Blended fabric, which consists of more complicated materials, will be another challenge for them to overcome in the near future. Sustainable consumption is their next milestone. Since the concept is widely deployed, the maturity level is estimated to be 9 on the GML scale.
Links
The websiteVideo