Eco-innovation Society
Did you know that more than 4,000 scholars from 47 countries have produced scientific publications explicitly focusing on eco-innovation? Coincidentally, they are located in countries that contribute to 70% of global GHG emissions (Turkeli, et al 2019). Are you one of them? We would like to hear from you!
Eco-innovation is an area of scholarly, research and practice focusing on the development, transfer, diffusion and adoption of innovations that contribute to environmental sustainability.

Although its origins can be traced to the seminal paper of Rennings (2000) and the book of Fussler and James (1996), eco-innovation still is considered a novel field of research and scholarly work. Eco-innovation is also known as environmental innovation, green innovation, sustainable innovation, ecological innovation, among other terms. Ideally, it brings positive effects on the environment (eco-innovation) and society at large (social eco-innovation) (c.f. Carrillo Hermosilla, et. al. 2010). However, eco-innovations can also create undesired and 'rebound effects' in the economy, environment and/or society (c.f. Mazzanti and Zoboli, 2006). Meaning, not all innovations can be considered truly green and socially inclusive (McDowall et al. 2011). Nonetheless, they are environmentally better than current alternatives, and often are justified by either a public good and/or a business case rationale (Kemp, 2010). Therefore, they receive public support as they constitute solutions to tackle climate, biodiversity and sustainability challenges (Ekins, 2010).
In scholarly terms, most of the eco-innovation research has been published in a very large number of Journals (Journal of Cleaner Production, Sustainability, Business Strategy and the Environment, Ecological Economics, among others). It is our view that there is a need to continue making progress around theory, methods, applicability, transferability and education around the topic of eco-innovation. Unfortunately, there is not a unified academic community around this topic..until now.
The Eco-innovation Society responds to the need to create a forum and platform for the academic, scientific and practitioner community specialised in the topic of eco-innovation. The Ecoinnovation Society brings together all those scholars, academics, working on different aspects of eco-innovation.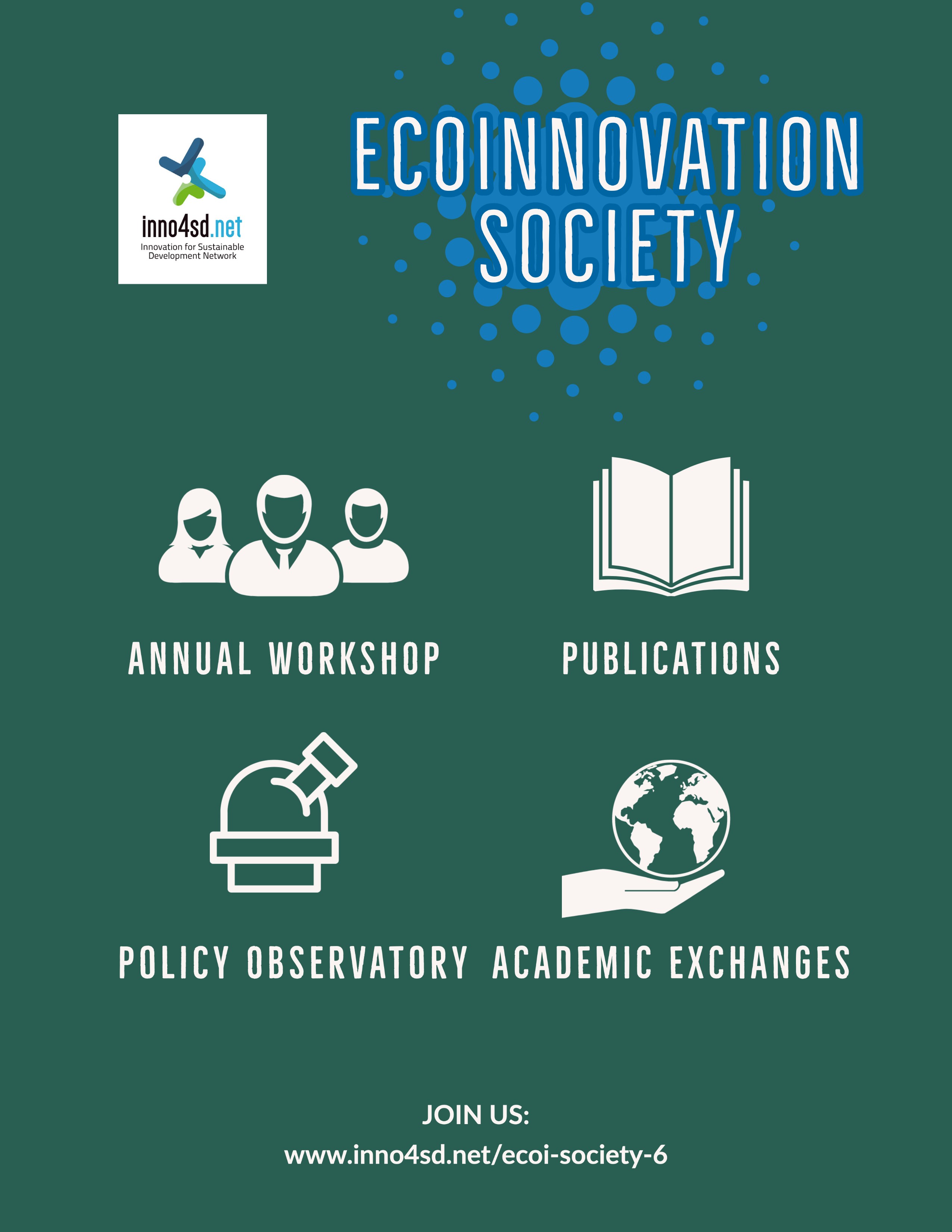 On November 12th, the society was officially announced at the
10th International Workshop on Advances in Cleaner Production (IWACP). See the introduction video below.
The inno4sd Steering Board of the Eco-innovation Society is composed of 22 leading scholars (see https://www.inno4sd.net/eco-in...). The first annual workshop is organised in Ferrara, Italy n November 10-11, 2022). More information is available here: https://www.inno4sd.net/save-t...

This first annual event is hosted by the University of Ferrara and the SEEDS Inter-University Research Centre and supported by the Transitions Hub of EIT Climate KIC and the Advances of Cleaner Production Network. This event is also part of the IAERE 10 Tour, for the tenth anniversary of the Italian Association of Environmental and Natural Resources Economists - www.iaere.org

Information about the mission, research agenda, activities, how to become a member, publication outlets and events will be available in this space.

Would you like to connect with us?

For more information and to express your interest in participating in this initiative you may contact: ecoinnovation [at] inno4sd.net