Eco-innovation Society
Did you know that more than 4,000 scholars from 47 countries have produced scientific publications explicitly focusing on eco-innovation? Coincidentally, they are located in countries that contribute to 70% of global GHG emissions (Turkeli, et al 2019). Are you one of them? We would like to hear from you!
Eco-innovation is an area of scholarly, research and practice focusing on the development, transfer, diffusion and adoption of innovations that contribute to environmental sustainability.

Although its origins can be traced to the seminal paper of Rennings (2000) and the book of Fudler and James (1996), eco-innovation still is considered a novel field of research. Eco-innovation is also known as environmental innovation, green innovation, sustainable innovation, ecological innovation, among other terms). Ideal, it brings positive effects on the environment (eco-innovation) and society at large (social eco-innovation). However, eco-innovations can create the so-called 'rebounds effects' in the economy, environment and/or society. Meaning, not all innovations are truly green and socially inclusive. But they are better than current alternatives with a sound business case. Therefore, it is not uncommon that this relative advantage makes them object of public support - due to the public good they represent. Nonetheless, there is a need to progress the methods, research and practice of eco-innovation. Unfortunately, there is not a unified academic community around this topic.
The Eco-innovation Society aims to respond to the need to create a hub for the academic, scientific and practitioner community specialised in the topic of eco-innovation. Through the use of an action-oriented knowledge and research agenda, the intellectual and practical outcomes of the Society's work intend to positively influence decision making in the spheres of e.g. public policies, business growth, new ventures, responsible research, consumption, investment.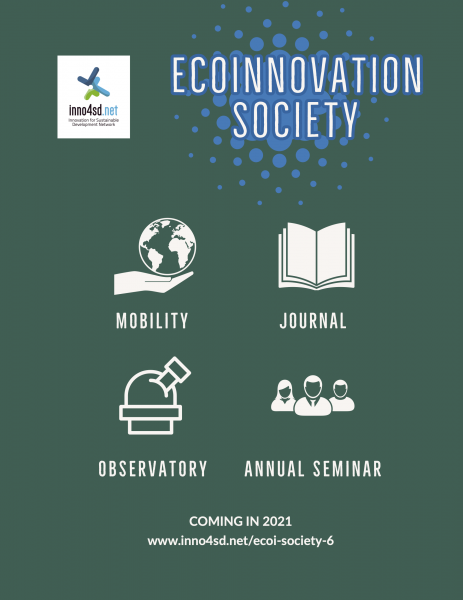 The inno4sd Steering Board is currently working in an action plan for the creation of the Eco-innovation Society. More information about the research agenda, general guidelines, membership options (board, member, partner, sponsor), publication outlets and events will be available in this space.
For more information and to express your interest in participating in this initiative you may contact: ecoinnovation [at] inno4sd.net