ASEIC, the ASEM Eco-Innovation Centre for SMEs
ASEIC was founded as a support to business instrument in ASEM[1] countries to bring about innovation in corporate strategy and products through eco-innovation while developing global green growth opportunities. Through advisory services, dissemination of information, and communications, ASEIC serves as a point of convergence for ASEM governments and SMEs in need of green transitions.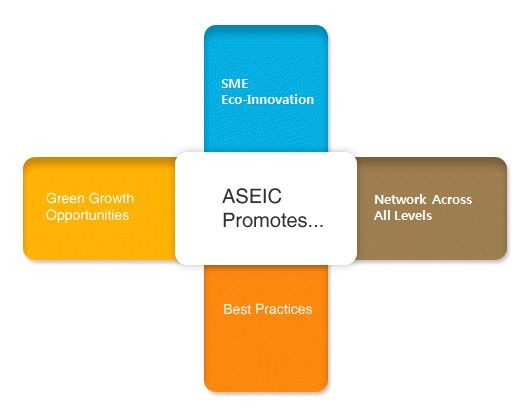 The challenge
South Asian countries face environmental degradation, unsustainable resource consumption and the impacts of climate change, creating substantial risks for the poor and vulnerable. The need for climate-friendly green technologies and business models is therefore extremely high in south Asia.
The measure
ASEIC is dedicated to supporting the environmental consulting services among SMEs in ASEM member countries and sharing core environmental regulations and innovative techniques and practices by providing 'one-stop' online services and international conferences.
ASEIC was established in 2011 with the principal mandate of enhancing the cooperation between Asia and Europe and promoting eco-innovation of SMEs in both regions. ASEIC aims to support the efforts of SMEs in ASEM member countries for exchanging environmental regulations, sharing good practices in eco-innovation and to promote green products. It creates new business opportunities for SMEs and environmental experts and encourages consumers to use eco-design products.
ASEIC's main activities are the following:
Advisory Services:
Implement, facilitate and support environmental consulting services between consultants and SMEs in ASEM member countries while providing necessary information and guidance for eco-friendly, innovative business practices.Operate a 'Green Business Centre' for SMEs in ASEM member countries desiring to expand their businesses in specific countries, by providing office facilities and local consulting services.
Knowledge Sharing:
Establish an online networking portal for international SMEs of ASEM member countries in order to share environmental regulations and policies while providing up-to-date global environmental news and issues.Share eco-innovation cases in technology, policy and business as well as supply chain management.
Outreach and Communications:
Hold international conferences designed to exchange the best policy and business practices from ASEM member countries.Strengthen economic and institutional partnerships among ASEM member countries.Publish reports on the best examples in eco-innovation and to promote eco-friendly products, appropriate technology and raising consumer awareness.
Lessons learnt
ASEIC has successfully provided support to SMEs on cleaner production, compliance with environmental regulations, education and training, establishing Environmental Management Systems, new types of sales strategies and business models etc., contributing to strengthen SMEs competitiveness.
One successful project is the 'Inclusive Eco-Innovation Programme' in which ASEIC provides grant funding and works together with local entrepreneurs from planning to implementation to create green local business opportunities and social entrepreneurship.
Further deployment
ASEIC is an example of a successful cross-regional collaboration in pursuit of a green economy. The concept could be transferred to other regions all over the world. Since the centre is still quite new, it is estimated to be 8 on the GML scale.
Links:
Eco-Innovation Gateway for Asia and Europe
Website