How an ancient and cultural capital builds a low carbon city
The Government of Taiwan launched a "low carbon cities" policy in response to the global warming. To facilitate the national sustainable development and the United Nation's goal of carbon emission reduction by 2050, Tainan, as the cultural capital, set up an ambitious plan toward a low carbon city.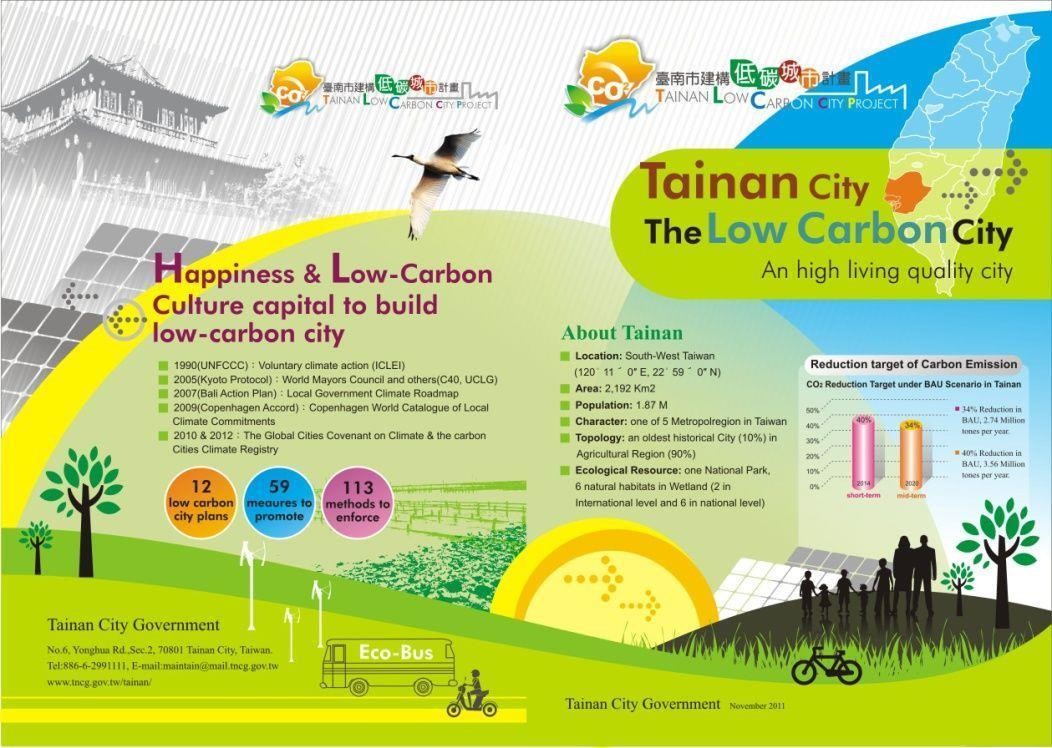 The challenge
Taiwan is a small and highly populated island, where over 99% of the consumed energy has to be imported, of which 90 % is mainly coming from petrochemicals. CO2 accounts for the majority of GHG emissions, and is therefore a critical issue for the island. In April 2010, the president of Taiwan declared that Taiwan was unable to sit on the sidelines of global climate changes. In the next eight years, the annual energy efficiency rate would have to be increased by 2% to force energy intensity (the quantity of energy required per unit output or activity) to fall 20% below the 2005 level by 2015, and 50% below by 2025.
The measure
The Taiwanese government committed to setting up regulation and standards as well as sustainability criteria for the development of cities. The low carbon city plan launched in 2009 relied on 10 strategic components:
sustainable low carbon communities,efficient low-carbon transportation,low carbon energy efficient buildings,multi-green energy sources,low carbon cultural and sustainable tourism,eco-City, i.e. a city built off the principles of living within the means of the environment.low carbon sustainable living style,material recycling,green remediation, which is the practice of minimising the environmental footprints of cleanup actions, andlow carbon education and city image.
Compared to the 2009 level, the short and middle term goals for CO2 reduction are 13% less in 2014 and 26% less in 2020, with the following key milestones:
In 2014, a networking of 4 low carbon cities was set up, which were chosen as demonstration cities, as well as 2 low carbon islands in Taiwan
In 2020, 4 low carbon life circles, which emphasize that 50% of the energy provision should originate from recycled energy enhancement mechanism, will be formed.
As one of the demonstration cities, Tainan City started to implement low carbon policies in 2012.
While promoting sustainable practices of low-carbon communities to the citizens, Tainan government simultaneously sets performance standards of low-carbon measures in campus, buildings, transportation, and so on. Besides, the spontaneous participation from industry is considerably encouraged. Take the tourism industry for example: if the tourism industry takes "green" action, like making use of energy saving vehicles, or providing low carbon diet, this contributes to raising consumer awareness. As for the constructing of low-carbon city, it won't solely rely on the effort from the government. Enhancing the cooperation from both industries and citizens is indispensable.
Lessons learnt
Tainan City Government took green policy as groundwork, and numerous innovative regulations as a supplement. By clearly promoting information sharing about the emission reduction goal, strategic policy and incentives principles, it is setting up synergies between the citizens and industries. By building such partnerships, connecting with mutual strategies from Tainan City government and linking with international society, meanwhile, it promotes international competitiveness.
Further deployment
Fully utilising exclusive regional characteristics, the relevant low-carbon city regulation made by Tainan City Government has been viewed as an outstanding initiative, for such a concept is ready for full-scale development. The GML is estimated to be level 7.
Links
Tainan Low Carbon CityTowards Low Carbon Society in TaiwanLow Carbon and Eco-City Projects in Tainan, Taiwan